Deal EOLFI / December 2017
---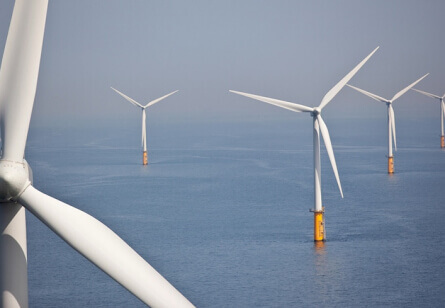 « We are proud to count on COBRA CONCESIONES as a shareholder of EOLFI GREATER CHINA. This partnership marks a milestone in our development in Taiwan »
Alain DELSUPEXHE, Chairman of EOLFI

Infrastructure and energy
EOLFI, a French developer specialised in floating wind projects, and COBRA CONCESIONES, a Spanish industrial company owned by ACS, have formed a partnership in Taiwan
On December 21, 2017, COBRA CONCESIONES finalised its shareholding in EOLFI GREATER CHINA, a subsidiary of EOLFI which has been active in Taiwan since 2012.
Pioneers and world leaders in the sector, the French and Spanish companies are both involved in developing floating pre-commercial wind farms in Europe:
- EOLFI is developing the Groix & Belle-Ile pre-commercial wind farm project 28 km away from shore in Brittany (France): 4 x 6MW floating wind turbines to be commissioned in 2021;
- COBRA CONCESIONES is developing the Kincardine Offshore Windfarm Project which will have a total installed capacity of 50MW located approximately 15 Kilometres offshore Aberdeen in Scotland. This project is expected to achieve final COD in Q1 2020.
In Taiwan, EOLFI GREATER CHINA has been developing a portfolio of five commercial floating wind farm projects with a target size of 500MW each. Acquisition by COBRA CONCESIONES of a shareholding will secure and speed up the development of these commercial projects. When the operation is completed, COBRA CONCESIONES will be the majority shareholder in EOLFI GREATER CHINA.
---
VULCAIN'S INTERVENTION
VULCAIN conducted an auction process in 2017, leading to the selection of COBRA CONCESIONES as shareholding partner to EOLFI in Taiwan.
The team of VULCAIN that supported this transaction was led by Chris KODECK.
« We are proud to count on COBRA CONCESIONES as a shareholder of EOLFI GREATER CHINA. This partnership marks a milestone in our development in Taiwan »
Alain DELSUPEXHE, Chairman of EOLFI

Infrastructure and energy