Deal URBASOLAR / May 2019
---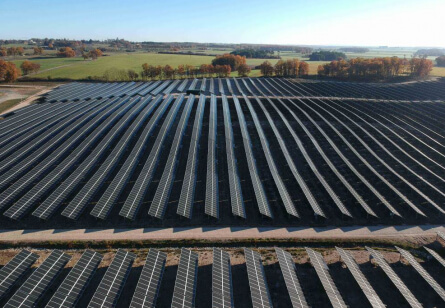 « Vulcain supported us very effectively in the auction process leading to the acquisition of Urbasolar by Axpo, with the right mix of market intelligence, process management, valuation expertise and negotiation support. »
Christoph Sutter, Head of Renewable Energy of Axpo

Infrastructure and energy
Axpo acquired French photovoltaics company Urbasolar, one of the leading companies in the French solar energy industry, with an operating portfolio of 187 MW and a development pipeline of over 1,000 MW, from its management and Omnes Capital
Axpo is entering into the international solar business and, on 30 April 2019, signed a contract for the acquisition of the French photovoltaics company Urbasolar. In doing so, Axpo continues to consistently pursue a strategy for profitable growth in the international business. After successfully developing the wind business with the subsidiary Volkswind, Axpo intends to take advantage of synergies in the economically attractive photovoltaics market. Urbasolar will be managed as an independent company. The company will serve as a platform to expand the solar business in Europe.
Urbasolar is one of the leading companies in the French solar energy industry. The Urbasolar portfolio currently includes operating photovoltaic plants with a capacity of 187 MW. Urbasolar also holds a development pipeline of over 1,000 MW and provides services in the area of repair, maintenance and asset management.
Since its founding in 2006, Urbasolar has built a total of 457 plants with a capacity of 350 MW. These include systems on office buildings, industrial rooftops or shopping centres as well as open-space plants. The project developer's customer segments include public administrations, industrial companies, logistic companies, retail chains and the real estate industry. Urbasolar currently employs a staff of 160 people. In addition to the headquarters in Montpellier, the company has offices in Toulouse, Aix-en-Provence, Nantes, Bordeaux, Vichy, Paris and Le Port (La Réunion).
Axpo, the largest producer of renewable energies in Switzerland, has established a strong position in the international business primarily with wind power, and now diversifies its renewable energies portfolio with Urbasolar. In the upcoming years, Axpo plans to manage Urbasolar as a subsidiary and to develop the company's existing, successful business model on an international scale. Activities will include development, construction, sales and operation of solar plants. The transaction for the definitive sale is subject to permits from official regulatory authorities that must be obtained in the upcoming weeks and months.
---
VULCAIN'S INTERVENTION

Vulcain acted as buy-side M&A advisor to Axpo in an auction process that started in 2018 and led to the selection of Axpo as preferred investor in early 2019.
The team of Vulcain that supported this transaction was led by Chris Kodeck.
« Vulcain supported us very effectively in the auction process leading to the acquisition of Urbasolar by Axpo, with the right mix of market intelligence, process management, valuation expertise and negotiation support. »
Christoph Sutter, Head of Renewable Energy of Axpo

Infrastructure and energy