Deal DomPro / December 2020
---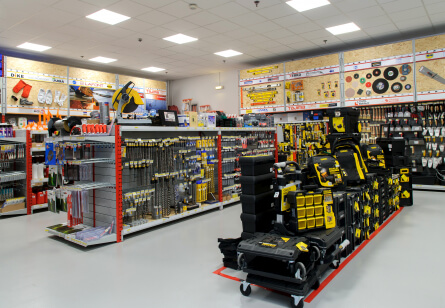 « A new page in the development of DomPro will take place with Groupe Mirwault. We are confident in the experience and the project proposed by Groupe Mirwault which, combined with first class assets, a rich strategic vision, and entrepreneurial values, should allow DomPro and all the members of the network to project into the future with ambition. We thank and commend the commitment of all and wish pleasure and success to everyone on this new path. »
Pierre-Louis Gras, Development Leader of the BTB Platform of Adeo and Alain Giraud, Managing Director Digital Corporate Development / M&A of Adeo

B2B Distribution and Services
December 2020 – Vulcain acted as exclusive M&A advisor to Adeo in the sale to Groupe Mirwault of 100% of its subsidiary DomPro, a group of independent multi-specialist distributors in DIY tools, industrial supplies and PPE for professionals
Adeo is the 3rd largest global player and 1st European player in the distribution of DIY equipment to individuals and professionals with 130,000 employees and €25.6bn revenue in 2019.
Founded 25 years ago and based in Roissy-en-France, DomPro is a group of independent multi-specialist distributors in DIY tools, industrial supplies, and PPE for professionals. DomPro's activities cover the identification, negotiation and referencing of a wide range of products. DomPro also offers marketing and sales promotion services to its members and suppliers.
DomPro offers more than 35,000 references in its catalogues and has a network of nearly 110 members with more than 150 points of sale spread throughout France and generating a cumulated revenue in the DIY activity of €200m (for a total revenue of €450m).
DomPro joins Groupe Mirwault, a family-owned retail group organized around two distinct divisions of expertise (i) horse / nature division, specialized in the distribution of horse equipment and related products for professionals and (ii) Formusson distribution division, specialized in layout, furnishing and building hardware through its national expert networks (Qama, Faille Industrie, Arena, Hubert Quincaillerie, etc.) representing more than €50m revenue with c.200 employees.
This transaction is in line with the strategy of Groupe Mirwault to pursue the development of its hardware division and to increase its territorial "proximity" network, in connection with the network of DomPro that gathers independent members throughout France and overseas. It is also the opportunity to set up several logistic, digital, and commercial synergies.
Vincent Vuillaumié, Groupe Mirwault, new General Manager of DomPro: "In collaboration with the 110 members of the network, we prepared our group over the last few months for the acquisition of DomPro in order to consolidate its existing assets and know-how, amplify its partnerships with more than 300 suppliers-partners, strengthen our range of marketing tools and launch, in 2021, an innovative digital project adapted to our members. In the coming months, we will also improve the offer of our logistic platform to better meet the needs of our members and their clients in a relationship of proximity and expertise."
---
VULCAIN'S INTERVENTION
Vulcain acted as exclusive sell-side M&A advisor to Adeo, in an auction process leading to the selection of Group Mirwault as a buyer. The team at Vulcain that supported this transaction was led by Thierry Falque-Pierrotin.
« A new page in the development of DomPro will take place with Groupe Mirwault. We are confident in the experience and the project proposed by Groupe Mirwault which, combined with first class assets, a rich strategic vision, and entrepreneurial values, should allow DomPro and all the members of the network to project into the future with ambition. We thank and commend the commitment of all and wish pleasure and success to everyone on this new path. »
Pierre-Louis Gras, Development Leader of the BTB Platform of Adeo and Alain Giraud, Managing Director Digital Corporate Development / M&A of Adeo

B2B Distribution and Services