Deal SABCA / February 2020
---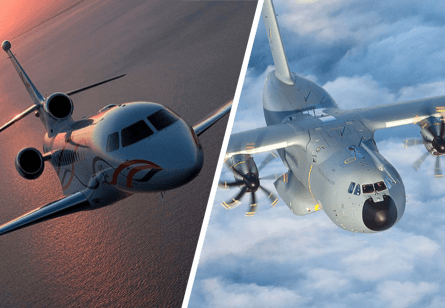 « Vulcain has been a fool proof support in this complex process, in particular by building on its sector expertise and understanding of financial and valuation issues alongside the management of Sabena Aerospace. »
Stéphane Burton, Chief Executive Officer of Sabena Aerospace

Industrials
Vulcain acted as exclusive M&A advisor to SFPI-FPIM and Sabena Aerospace in the acquisition of SABCA from Dassault Belgique Aviation, fully owned by Groupe Industriel Marcel Dassault. The transaction is subject to conditions precedent, including merger control approval
SABCA offers a full range of services to the civil, space and military aviation markets and recently expanded into the commercial Unmanned Autonomous Systems market as an integrator of aerospace-grade solutions for the industry. SABCA conducts operations from all three Belgian regions (Brussels Capital Region, Charleroi in Wallonia, and Lummen in Flanders), as well as from Casablanca, Morocco. Today, SABCA benefits from a large palette of expertise, built over its 100 years of experience in designing, manufacturing, maintaining, and upgrading large and complex elements for aircraft and space launchers. Its customers and partners belong to the elite of the aerospace industry.
Dassault Belgique Aviation, fully owned by Groupe Industriel Marcel Dassault (GIMD), has been the majority owner of SABCA since the late 1960s. GIMD is also the majority owner of Dassault Aviation.
SFPI-FPIM is the sovereign wealth fund of Belgium, driving long-term and sustainable economic and social prosperity. SFPI-FPIM acts as a trusted partner in helping Belgian companies to become a reference in their industry by providing smart capital solutions. In addition, SFPI-FPIM safeguards the long-term stability of the Belgian economy by contributing to the anchoring of strategic assets in both promising and established companies. SFPI-FPIM has c.€16bn in assets under management for the Federal State.
Sabena Aerospace is an independent Belgian MRO provider operating at international level and offering maintenance and operational solutions for both civil and military aircraft. The activities of Sabena Aerospace are structured in four Business Units: Engineering & Training, Operational Support, Components and Defense. Sabena Aerospace employs over 400 people and develops its activities from its historic headquarters at Brussels Airport, thanks to its facilities in 9 countries in Europe, the Middle East and Africa. Its international commercial motto perfectly summarizes the company's strategy: "Keep Flying, We Take Care".
The acquisition of SABCA and the joining of forces with Sabena Aerospace will create a Belgian industrial aviation champion.
---
VULCAIN'S INTERVENTION
Vulcain acted as exclusive buy-side M&A advisor to both SFPI-FPIM and Sabena Aerospace in the auction process. The team of Vulcain that supported this transaction was led by Chris Kodeck and Amaury Cavé.
« Vulcain has been a fool proof support in this complex process, in particular by building on its sector expertise and understanding of financial and valuation issues alongside the management of Sabena Aerospace. »
Stéphane Burton, Chief Executive Officer of Sabena Aerospace

Industrials