Deal Mecachrome / July 2021
---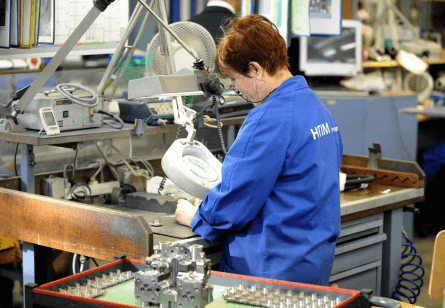 « This acquisition is a new step in the execution of the Mecachrome Group's transformation, which aims to adapt the Group to current and upcoming changes in the aerospace industry. It allows the Group to enhance its portfolio of products, technologies and customers. Hitim Group, specialized in landing gear axles and aircraft engine shafts, and equipped with highly integrated industrial capabilities in special processes (including high quality surface treatment such as HVOF spraying), also opens up new business opportunities for the Group. »
Christian Cornille, CEO, Mecachrome

Industrials
July 2021 – Vulcain acted as M&A advisor to Mecachrome in the acquisition of Hitim Group, specialized in machining of high precision mechanics mainly in aerospace


Mecachrome announces the acquisition of Hitim Group, kicking off its buy-and-build strategy. This acquisition strengthens the position of the Mecachrome Group, a leading player in the European aerospace market, and allows it to broaden its technology and customer portfolio.


Headquartered in Le Coteau (Loire, France), Hitim Group designs and produces high precision machined parts mainly in aerospace. Supported by an industrial know-how inherited from the merger of Gemma and Sorome, Hitim Group is a Tier 1 / Tier 2 supplier of most French aerospace players. Hitim Group is specialized in landing gear axles and aircraft engine shafts.


As a recognized player in its markets, Mecachrome is specialized in the manufacture of complex mechanical parts for aircraft structures and aerospace and automotive engines. The group is positioned as a long-term partner of major OEMs such as Airbus, Safran, Rolls-Royce and Porsche. Mecachrome is present on 3 continents with a total workforce of around 2,400 employees.


In 2019, a deep transformation plan of the company was launched, under the leadership of its CEO Christian Cornille, who arrived mid-2019, and with the support of its reference shareholders Ace Capital Partners and Bpifrance. The progress of this transformation has set the stage for Mecachrome to position itself as a consolidator in its markets.


This first acquisition is expected to be followed by several others, with multiple discussions in progress.


The acquisition of Hitim Group, specialized in high precision mechanics, will be financed by Mecachrome's shareholders, led by Ace Capital Partners - through its 4th Aerospace fund, launched in the summer of 2020 in the midst of the Covid crisis -, alongside Bpifrance.
---
VULCAIN'S INTERVENTION
Vulcain acted as buy-side M&A advisor to Mecachrome in this transaction. The team of Vulcain that supported this transaction was led by Chris Kodeck.
« This acquisition is a new step in the execution of the Mecachrome Group's transformation, which aims to adapt the Group to current and upcoming changes in the aerospace industry. It allows the Group to enhance its portfolio of products, technologies and customers. Hitim Group, specialized in landing gear axles and aircraft engine shafts, and equipped with highly integrated industrial capabilities in special processes (including high quality surface treatment such as HVOF spraying), also opens up new business opportunities for the Group. »
Christian Cornille, CEO, Mecachrome

Industrials